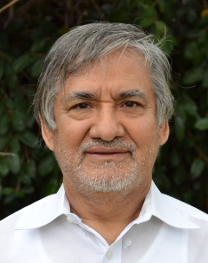 Credentials: Dr. Karma
M.D. (1991) Autonomous University of Guadalajara, Guadalajara, Mexico
Hospital Bassico (1995-96) Social Service, San Luis Rjo Colorado, Sonora, Mexico During this period, Dr. Karma consulted and treated 2,800 patients in general medicine and 300 patients in mental health.
Medical Internship (1993-94) Michigan Hospital and Medical Center, Detroit, MI
OMD (1988) Samra University of Oriental Medicine, Los Angeles, CA
Ph.D. in Engineering (1980) Kyushu University (Japan)
B.S. and MS. in Engineering (1967-72)
Acupuncture and the Best Herbal Medicine out there from a gifted healer from Nepal!
Established in 1988 A.D, the Karma Holistic Center has been providing Acupuncture service, herbal medicines and herbal beauty products to its customers. Dr. Karma has dedicated his life to improving his patient's health and also help them maintain a healthier life. For the past 27 years KHC has been providing natural medical solution to different health problems.
Dr. Mukunda Karmacharya (Dr. Karma) specializes in alternative medicine, including acupuncture and creating herbal formula's that provide natural healing and are proven effective. Born in Nepal, Dr. Karma has had many life experiences in the Himalayas with his father who was a Master Herbalist successfully treating people with his ancient formulas. From his father he learned the art of Herbal Medicine and added his own formulas.
Dr. Karma recommends individualized herbal formula's when needed to aid the body in healing. Dr.Karma has unique abilities including the ability to feel and perceptually see energy blockages in your body. This allows him to individualize your acupuncture treatment with painless needle insertion. Treatments last 45 minutes to an hour and include infrared light and hands on whole body energy balancing.
Acupuncture is the fastest growing healthcare method in America. Millions of Americans have already discovered this ancient healing art and rely on it for their healthcare needs. The World Health Organization recently recognized the use of acupuncture in the treatment of a wide range of medical problems. Shouldn't you consider this amazing holistic medicine for your chronic pain and unresolved health concerns?